Suites at Santa Fe Resort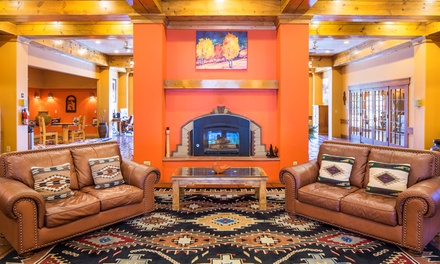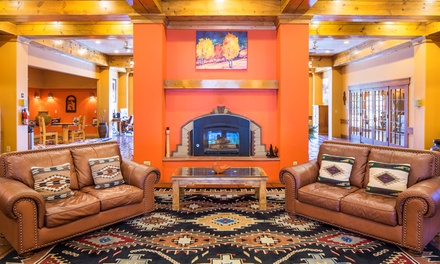 | Value | Discount | Savings |
| --- | --- | --- |
| $98.48 | 34% | $33.48 |
Share:
The Fine Print
Stay, with New Mexico Culture Pass, at Villas de Santa Fe in New Mexico. Dates into June.
---
Highlights
Hotel at a Glance: Villas de Santa Fe

Situated in the foothills of the Sangre de Cristo Mountains and 12 miles from Ski Santa Fe, Villas de Santa Fe welcomes visitors with a warm southwestern decor and pueblo-style architecture. Well-appointed suites make the property a comfy home base for exploring the area, which is rich in Native American and Mexican history. Guests can walk or take advantage of the free shuttle to downtown Santa Fe to visit the various restaurants and museums.

One-bedroom suites: partial kitchen with refrigerator and stovetop, sleeper sofa, coffeemaker, and hairdryer
On a rainy day shoot some pool in the game room.
Cook a meal at the outdoor BBQ grills, or inside, with your suite's stove.
Work up a sweat in the fitness center.
Immerse yourself in history: This Getaway includes one New Mexico Culture Pass.

Santa Fe, New Mexico: Old West Architecture

Santa Fe's vibrant mosaic of cultural influences includes pieces of Native American, Latino, and western traditions. You can get an idea of the city's varied background by visiting Santa Fe Plaza, which has served as the city center for more than 400 years. On a walk through, you'll see old buildings made of adobe, the red brick-like material that defines much of Santa Fe's architecture. Centuries of colorful southwestern artwork are also on display in the New Mexico Museum of Art, which is located in the Plaza.

For more than 300 days a year, Santa Fe soaks in sunshine. Such consistently great weather, paired with New Mexico's varied terrain, makes the region ideal for hiking and biking. The Sangre de Cristo Mountains have peaks that stand over 13,000 feet high, and they're traced with trails that wind past picturesque meadows filled with Indian paintbrush and purple lupine.
The Company
Villas de Santa Fe
400 Griffin Street
Denver
website